There is no other place like home. It is a place where you can get cozy and be yourself without bothering about a second person's opinion. That's why we call this place 'Home Sweet Home'.
So, how about making this pace look like nothing less than a magazine cover? The current real estate scenario of the city of joy is all about providing the buyers with premium apartments in Kolkata. However, no matter what level of premium apartment you purchase, the key to making it look attractive lies in your hand. Don't we all wish to see our tired houses getting a wakeup call with a dose of quick and exhilarating warmth?
Hence, in this blog, we have collected a few tricks to make your premium flat look stunning without actually breaking your bank. Take your ride towards an abode that you have always dreamt of owning!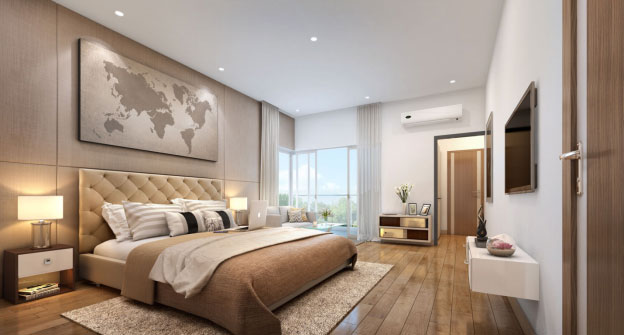 Note: Images are for indicative purposes only. Actual product may differ from illustrations.
Tweaks to give Your Apartment a Makeover
Kick-in Your Inner Creativity
If your pocket is not permitting you to buy expensive pieces to make your home look attractive, get creative and make some DIY decors. For example, if you are into paintings but low on budget, try your hands in doing some art on your own. All you require is a big canvas and an array of colours that will match your personality. Go ahead, make your own paintings and discover how a dash of colour to your room through those paintings can elevate your mood.
Elegance is the Key
If you want to add a hint of glamour to your premium flat in Kolkata, buy pieces of furniture infused with elegance. It does not have to be expensive or huge.
For example, a coffee table always gives out an elegant vibe owing to its structure. It's also beneficial to have one, particularly if you have a lot of guests coming to your apartment every day.
Go Nature's Way
The presence of natural things in your abode is good for your health. If you're a nature lover, then try putting up plants. The presence of plants will give your home a natural and warm vibe along with keeping the air inside clean by removing the toxic vapours.
Simplicity is the New Decor
It is a common thing that people who live in apartments are always struggling with spaces. Even if you own a premium apartment in Kolkata, they are designed with limited floor area. Hence, it's difficult to store and sort your possessions, particularly bulky ones. Adding wall shelving can be beneficial. Also, it doesn't have to be expensive. All you need are the right materials to make one.
The Bigger, The Better
Worry no more if you have a small room. To make it look bigger, try adding a big mirror inside your room. It's suggested that you buy a floor length mirror which you can place in a spacious, open atmosphere. Adding dimension to your premium flat in Kolkata can also be done by putting a mirror near the window where it can catch some light. By doing so, make your room look bigger and broader.
Add a POP of Colour
Wall paints are inexpensive, yet makes a big difference to your apartment interior. Work smartly and come up with attractive wall colour combinations for a pop of hue on the blank wall. You can choose from an earthy tone to bolder hue for changing the overall feel of a room. A nice wash of colour is all you need to make a room look stunning and new.
Molding-ly Attractive
Normally, any luxury residential complex in Kolkata that you invest in provides you with bare walls. To amp up the story of the walls, consider adding molding to the baseboard, chair rail, or ceiling. Do not get the wrong idea when we say molding. It does not have to be gaudy or Victorian style, a simple and single-depth piece of molding will do the trick.
Takeaway
Buying new stuff or just repainting your home to make it look beautiful can be a great deal of fun. However, you can also stick to what the experts have to say. If you have the budget, consult your local architect or someone with in-depth knowledge about interior design.
Give your house the look that you want to see by paying attention to the way you design and enhance your humble abode. This way, you can make your premium flat in Kolkata significantly look more attractive along with treating yourself with your dream abode.