Elegant Wall Colour Combinations For Luxurious Homes In Kolkata
Posted On June 13, 2019 by One Rajarhat
While walls 'do not have ears', you can definitely add a dash of colour(s) to them to give your abode some life. Walls cover the major portion of your homes and colours play a pivotal role in the look of your home. The seamless blend of these elements gravitates you towards your dream home. Your emotions and your true self gets expressed through colours, and therefore, it is only fine to be demanding and particular in choosing the colour of your interior wall. More so, if you own luxury apartments in Kolkata.
However, it is not easy to choose a colour for your wall. Colours can either make your abode look spacious or break the space. Hence, while choosing colours, come up with combinations that will make your luxurious abode look like a masterpiece. Hence, here is a set of 8 killer wall colour combinations that you should try in 2019 for your home if you are staying in a luxury complex in Kolkata. Combined with these ideas for an exotic dining decor, these colour combination can make your home look way more gorgeous than you can imagine.
Wall Colour Combinations to Light-Up your Abode


Note: Images are for indicative purposes only. Actual product may differ from illustrations.
Go Pastel
Baby pink, soft mauve, and baby blue lack strong shade, which is why they are called pastel colours. Such colours blend well with each other and using them on the walls of your home will give a fresh look and feel to your abode. They will infuse your room interiors with a soft and soothing effect, thereby giving luxury houses in Kolkata a positive vibe. Such shades are apt for children's room for that fun vibe.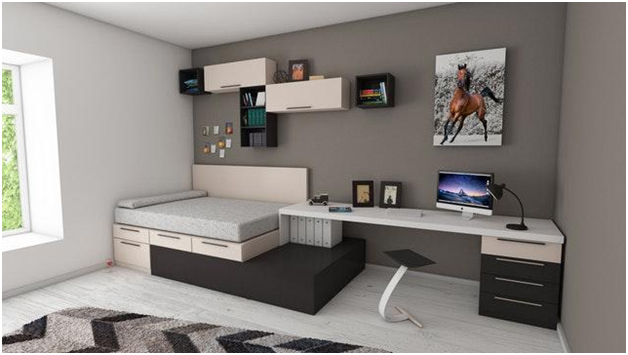 Note: Images are for indicative purposes only. Actual product may differ from illustrations.
Powerful Purple and Gunmetal Grey
If you want to add a dash of boldness and sophistication to your home interior, a mix of purple with gunmetal grey is just what you need. A strong shade of purple combined with the neutral grey hue will give the walls of your living room a distinguished personality, speaks volume about your exquisite taste. This colour combination is becoming a new trend among people who are searching for flats for sale in Rajarhat.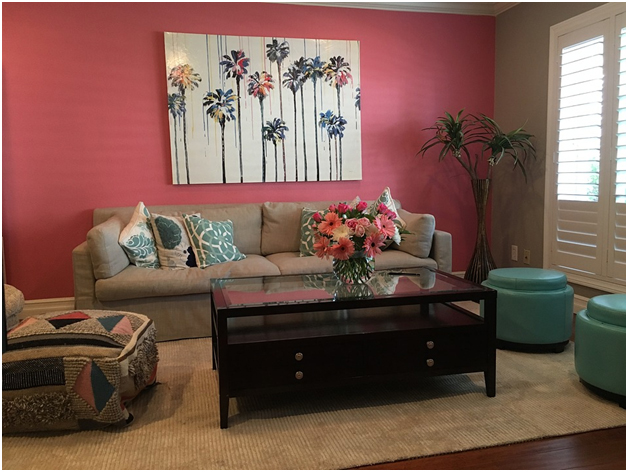 Note: Images are for indicative purposes only. Actual product may differ from illustrations.
Delicate Pink and Turquoise
Soft pink combined with turquoise gives rise to a bold colour combination for your home interiors. The combination is perfect for luxurious houses in Kolkata since such walls will add a bright and lustrous look to your home. Furthermore, this versatile and exuberant colour combination will complement a plethora of designs, home decor, and furnishings in your home.
Rejuvenating Aquarium Blue and Grape
Give your premium flats in Kolkata a more premium look with playful and energetic vibe by combining the vibrant shades- aquarium blue and grape. The colours will surround any room with enthusiastic vibes, thereby adding life to the lifeless white walls. The combination has the potential to illuminate a lightless space in your home, thereby making it appealing for the guests/visitors. Aqua and grape are one of the best colour combinations for any room in your abode.
Dynamic Blue and Yellow
What will happen if you combine the colours blue and yellow on the walls of your home in a luxury residential complex in Kolkata? Probably something electrifying! Blue and yellow will give rise to a magnetic impression, thereby adding life to a dull space. When dramatic blue walls are balanced owing to the contrast from yellow, a relaxing sensation takes over your home. This dynamic combination is perfect for a study room as yellow increases the concentration level.
Subtle Orange with White
Orange signifies laughter and joy. White is the symbol of peace. When these two colours combine on one of the walls of your abode, it creates the perfect environment for a happy family. The innocence of white and the optimism of orange is the perfect combination for the walls of your bedroom. This is one of the most fascinating colour combinations for interior wall paint.
Classy Navy Blue & White
A kitchen needs to look spacious and should have the power to increase your appetite. With blue taking the main stage along with a touch of white, this blend is the most minimalistic interior wall paint colour combination. It is the perfect combination that will make the interior look edgy, clean and elegant, something that your kitchen needs to complete that look.
Smooth Cream & Aqua
Bring in some aqua blue and cream combination on the walls of your home interiors to spread a cool and breezy spirit in your home. The combination will give rise to a beach-like vibe with aqua reflecting the sea and the dull cream representing the sand. It is perfect for the flats in luxury complexes in Kolkata and will create a relaxed and peaceful ambiance. So, this is a go-to interior wall colour combination, especially for the rooms reserved for the guests.
So, which colour combination is stealing your heart? If you ask us, we are drooling for all of them and don't know which one to indulge in. However, if you have plans of owing luxury house in Kolkata, give these colour combinations a shot for a space to call 'Home Sweet Home'.