One Rajarhat – Luxurious Service Apartments in Kolkata Near Airport
Posted On June 5, 2019 by One Rajarhat
Imagine living your days engulfed in style, comfort, and luxury amidst a marvelous ambience blending a classy set of facilities. Sounds quite dreamy, right? While most of you will judge us and think we are harping on a far-fetched idea, we have a pleasant surprise for you. Open your doors to purchasing your dream apartment with One Rajarhat- a residential project redefining luxury by the expert touch of Anik Industries Limited. A gem set in the smart city Rajarhat, One Rajarhat with luxury service apartments in Kolkata is perfect if you want the right dose of savoir vivre and serviceability blending seamlessly under one roof.
With these words, a sense of excitement is (probably) running down your spine and curiosity has got triggered in your brain. If you are keen to acquire information catering to One Rajarhat where a new style of life is waiting for you, allow us to introduce you to the residential project with ultra luxury apartments where you can gift yourself "The One" lifestyle that you've been waiting to live.
One Rajarhat- A Stellar Project with Ultra Luxury Apartments
Take your steps towards leading an elevated lifestyle that embodies nothing less than sheer extravagance with One Rajarhat. With ultra-luxury serviced apartments and up-to-date facilities, getting the chance to hobnob in this royally designed project will redefine your living standards.
To begin with, this grand project, One Rajarhat will provide you with 1, 2, 3 and 4 BHK ultra luxury apartments in Newtown, Kolkata churning out an unparalleled connectivity or transport route. Being encompassed by best in class contemporary facilities, as a resident, get the benefit to travel to any part of the city without any hindrance. Let us be precise in this case. Adding more points to the reasons why purchasing a premium segment apartment in Kolkata is a wise decision, One Rajarhat embraces connectivity via road and the upcoming metro located just across the road, thereby adding an edge to the game of traveling on a daily basis. What's more? Apart from developing easy connectivity by Noapara and Dum Dum metro stations, the project is also close to the Kolkata Airport. Hence, it is an advantage *alert* for the frequent flyers.
Hold On! We have More in the Store.
These luxury flats in Kolkata is surrounded by commercial facilities as well. The project maintains proximity with notable hospitals, popular educational institutions, business zones, and well-known entertainment centers. Hence, we can deduce that One Rajarhat will make it a point to provide the residents with well-balanced days both inside and outside the project premise.
Apartments with a Touch of Splendour
Do you know what defines an ultra luxury apartment? A fine blend of architectural finesse and modern facilities along with an interior design with a burst of suaveness. With One Rajarhat, see these descriptions coming alive. Apart from providing luxury flats, the project will also provide serviced apartments in Kolkata near airport.
One Rajarhat is planned to provide luxurious apartments in Kolkata near airport. Going beyond the threshold, the project is attaining the peak of lavishness and style in their ultra luxury flats, thereby churning out the true flavour of residing in luxury residential projects.
Furthermore, the presence of serviced apartments near Kolkata airport has taken the value of this project a notch up. It is especially great for business-minded investors who are always on the run and indulge in frequent traveling. Hence, the closeness of such apartments to the airport is a great way to make one feel at home with the presence of comfort and convenience at every corner. What's more? You'll get all these features starting from 70 lakhs onwards, thereby not burning your pocket!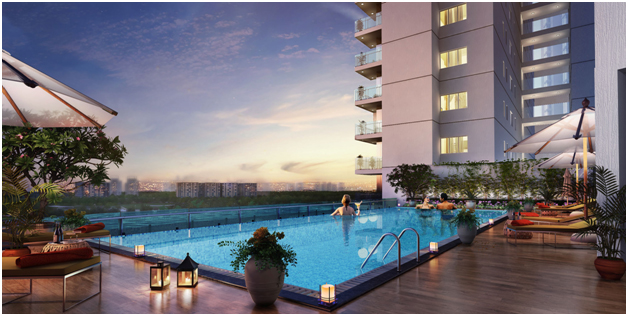 Opulence Set of Amenities & Facilities
Feel nothing less than living a royal lifestyle with these ultra-luxury apartments in Kolkata. With crème de la crème set of facilities and amenities, treat yourself with a living worth the investment. With features divided into clubhouse facilities and residential amenities, at One Rajarhat you will get all the advantages of investing your money to a 3 BHK living place in Kolkata. Along with that you will get features like:
Club House Facilities
Jogging & walking track- the path to fitness
Yoga/meditation area – for a calm mind
Banquet hall cum badminton court – some deserved a good time
Infinity swimming pool- knockout stress in the ripples of water
Massage/spa room- self pampering is mandatory
TT, Pool and Snooker Table Room – for a memorable time with friends
Library – to increase the dose of knowledge
Table Tennis – since quick matches are fun
Convenience Store – can't overlook daily grocery needs
Toddlers Play Area – where little ones can enjoy
Kids Multi-Game Court – to promote outdoor games
Imperial Sky Lounge- quality time beneath the stars
Complex Amenities
Grand Air Conditioned ground floor lobbies
Fire fighting arrangement and extinguishers
Facility Management System
Smart Card Access System
Landscaped gardens, etc.
With such innovative features within your reach, get a lifestyle with that much-needed perfection. With ultra luxury apartments in Newtown, Kolkata, One Rajarhat in this smart city is all about days being ruled by good memories and laughter that cannot be duplicated anywhere else.