What does it take for a luxury residential project in Kolkata to stand out? While most of you will say that the term "luxury" in itself plays a vital role for the project to gain prominence among the property buyers, there are a plethora of factors that make a project worth the investment. And when we say investment, we mean investing time, energy and money behind a single residential project where you are planning to buy your dream abode.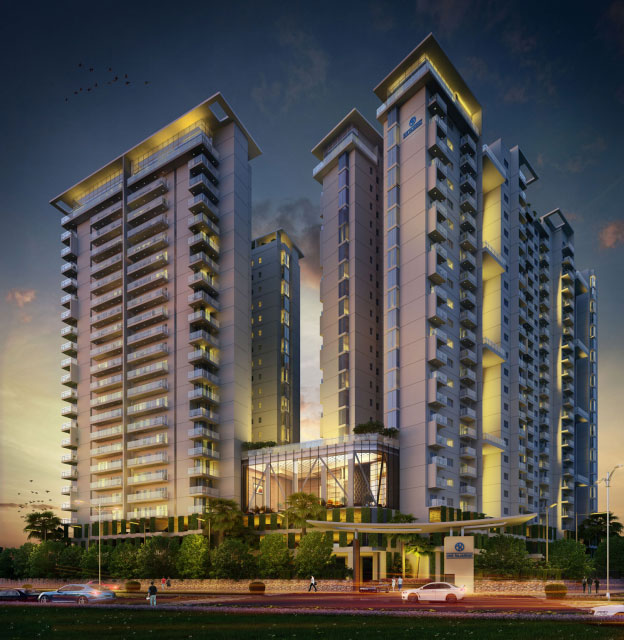 Note: Images are for indicative purposes only. Actual product may differ from illustrations.
One Rajarhat takes the crown in this regard. A stunning upcoming luxury residential project in Kolkata, get the best of luxury, convenience and functionality under one roof for a lifestyle beyond the realistic expectation. A masterpiece positioned in the smart city Newtown-Rajarhat and cocooned in the pure essence of luxury, One Rajarhat by Anik Industries Ltd is redefining comfort and style.
However, now you'll probably want to know what is so great the project that enables it to gain a popularity of this stature? Let us dive into the blog to learn more about the project and learn about its special features.
One Rajarhat- A Gem Set in the Heart of the Smart City
Set amidst a stunning milieu, the project qualifies as the new heartbeat of Kolkata. Where ultra-luxury features blend seamlessly, where one can hobnob with royalty, where your home address will become nothing less than a landmark, it is the One Rajarhat. This project gives you many reasons why buying a premium flat in Newtown is a worthy decision.
With 1, 2, 3 and 4 BHK luxury apartments in New Town,  nestling an efficient transport route along with best in class amenities, One Rajarhat is just what you need to lead the "one lifestyle". To start with, this project embraces smooth connectivity with other parts of Kolkata via road and the upcoming metro link that will make daily traveling an easy affair. To take the concept of connectivity a notch up, this luxurious residential project is close to the Kolkata international airport airport – a brownie point for the frequent travelers.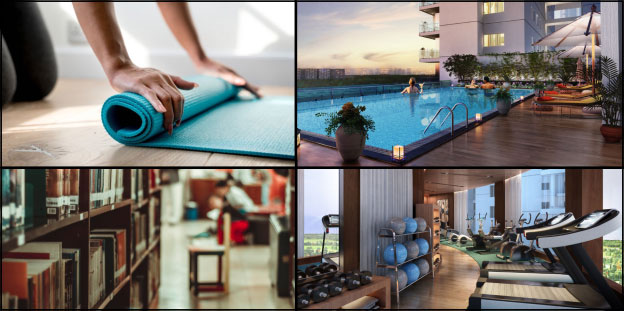 Oh! Are you wondering about the presence of commercial facilities?
Worry not when your address is at One Rajarhat.
With premium apartments in New Town, One Rajarhat is girded by commercial facilities as well. With the presence of notable hospitals, renowned educational institutions, business zones, and popular entertainment centers, treat your days with a well-rounded lifestyle not just within the project premises but outside as well.
What else defines the project?
The presence of apartments infused with grandeur areenough to arrest your attention with one look. Mirroring suaveness, One Rajarhat, apart from providing you withluxury apartments in Kolkata, also comes with service apartments, a rare feature found in other projects.
One Rajarhat is planned to consist of 1, 2 and 3 BHK service apartments along with 3 and 4 BHK residential flats in New Town. Crossing the threshold of quality homes, this upcoming luxury residential projecthas met the zenith of lavishness and style to provide the residents with a comfortable stay.
Moreover, the presence of service apartments is beneficial for the investors or businessmen who can come up with their own office, studio, etc. to give their business a new height.
However, of all the features, we are in love with the presence of the infinity swimming pool at One Rajarhat. Now, what is so great about this feature? Here's what you need to know:
Infinity Pool for Infinite Essence of Happiness
One Rajarhat is a hub of facilities and amenities, something that a luxury residential project must have to call itself a luxurious one. However, the presence of the infinity swimming pool simply adds an edge to the project on the whole. And let us tell you, it is not present in every residential project. Here are the specialties of the swimming pool: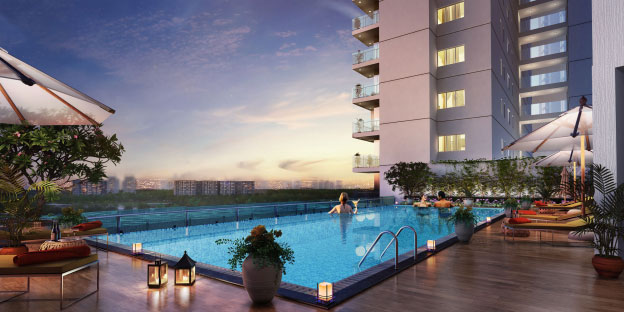 Artistic and Eye-Catching
Infinity pools have an artistic touch which makes them eye-catching. Since these pools seem to have no edge, a swimmer's mind is not cluttered with the idea of concrete steps and barriers. Instead, the edge blends with the background owing to the presence of weirs, glass walls, and other hidden barriers. In fact, the pool seems to fit smoothly with the sky, thereby making its presence a treat for the residents.
Environmentally Friendly
Infinity pools need high-capacity pumps and water collection troughs. Some owners are suspicious of this feature, fearing wastage of water and money. However, the pumps are only active when the pool is in use, thereby saving water in the long run. In fact, if accurately filtered, the water can be "recycled" back into the main pool as needed.
Safe and Fun for Families
Infinity pools are perfect for luxury residential projects in Kolkata, as it is safe, especially for the children without fearing any accident out of falling off the edge of the pool. Such pools are safe if built correctly, thereby making it fun for the families after a long hectic day. Railings, stairs, and ramps can also be added to infinity pools, ensuring that children, the elderly, and those with disabilities swim safely.
Hence, with such features blending in your daily life, you can be assured of nothing less than perfection. With luxurious apartments, One Rajarhat will gift you a lifestyle merging the best-in-class features, making it a wise decision to invest in this project.